The best flooring for a conservatory
April 20th 2021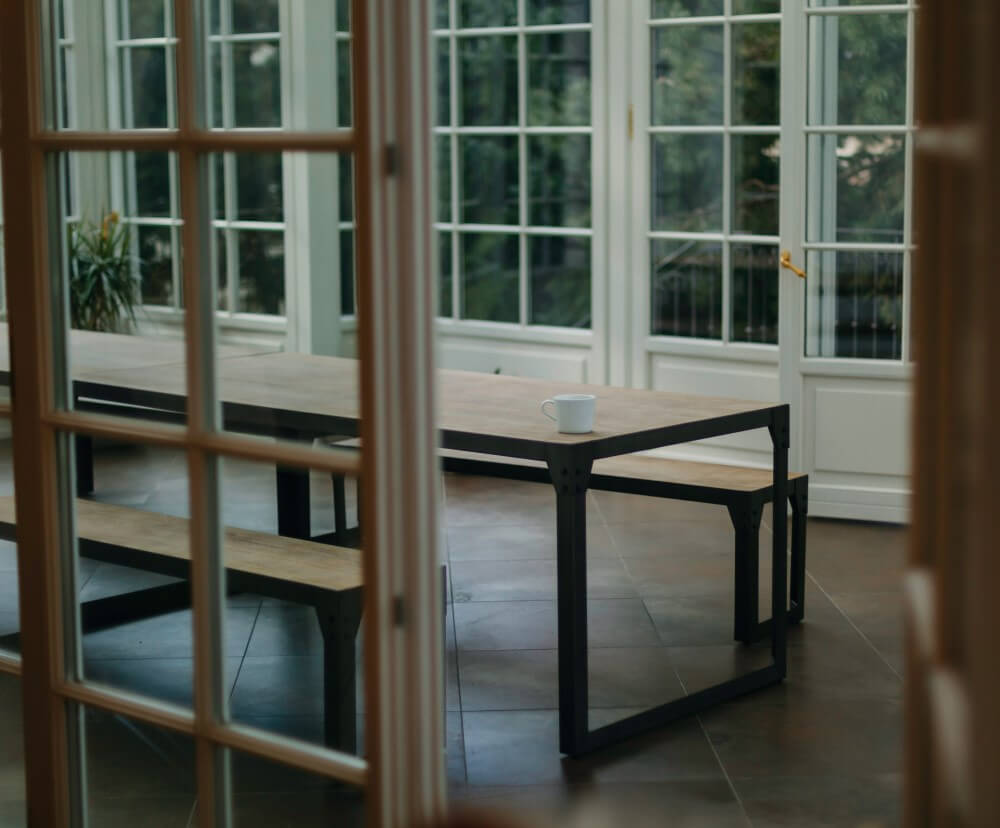 So you've made the step and added a new conservatory – or your old conservatory flooring has reached the end of its life, and it's time to rip it out and start again.
Or you're wondering what flooring this glass greenhouse should have, with high sun exposure and varying temperatures.
When it comes to a conservatory, the flooring you choose can have an effect on the whole room and durability of the conservatory. There are a lot of factors to consider, such as if the room is a suntrap, what the room will be used for, budget, temperature, moisture, and more.
So what's the best flooring for a conservatory? We've broken down the suitability of laminate flooring, engineered wood flooring and luxury vinyl tile flooring for a conservatory to help you with your decision.
Why choose laminate flooring for a conservatory?

Laminate flooring is made up of layers of synthetic wood fused together using a lamination process. It is made up of 99% wood and has a top layer with a wood-like or stone look and texture printed. It is hugely versatile with endless colours and patterns to choose from.
Laminate flooring is easy to install, clean and maintain and gives you the appearance, look and feel of hardwood flooring, without the upkeep! Check out our laminate flooring advice and guides.
The wood that is used to build up the laminate flooring makes it thick and durable in places where there is high foot traffic such as in and out of a conservatory door into the outdoors. And, because it is easy to clean, it is much more manageable for those muddy boots and footprints. The thickness also increases comfort, making it a pleasant floor to walk on.
The durability of laminate makes it a hard-wearing flooring material that can withstand scrapes, knocks, and slides from moving furniture or accidental drops. It's a practical solution for an adaptable and flexible space like a conservatory.
Laminate flooring in conservatories with high levels of UV

A good quality laminate floor is well equipped to handle levels of high UV, which means that it should not fade easily in the sun. Laminate flooring has aluminum oxide coating as a top layer, which will prevent fading and determines how the floor will wear over time.
Laminate flooring for moisture, temperature changes, and underfloor heating

Laminate flooring is vulnerable to moisture and temperature changes as moisture can enter the layers and affect the adhesive glue that holds the flooring together and both temperature changes and moisture can cause the wood materials to expand and contract.
Exposing your flooring to high levels of moisture can have a number of consequences such as bubbling and cracking therefore it is important to consider how wet the flooring will get in your conservatory. If you are concerned about the levels of moisture in your conservatory, take a look at our waterproof and water-resistant laminate floors.
All our good quality laminate floors come with a 20-year guarantee so you can live stress-free and won't need to worry about any bubbles or cracks in the near future. Most laminate floorings are suitable to use with underfloor heating, but it is best to check first or speak to one of our advisors today.
Why choose engineered wood flooring for a conservatory?

Engineered wood flooring is also very versatile and durable. Not to be mistaken for laminate flooring, engineered wood flooring is a type of hardwood flooring. It is built up with multiple layers of timber stuck together, finished with a top layer of real solid wood lamella.
Engineered wood flooring comes in a large variety of designs, colours, widths, lengths and finishes so it can be used in most rooms of your home. Because of its durability, it can withstand changes in temperature and humidity meaning it can be used in conservatories with large amounts of glazing.
The finish you choose for your engineered wood floor can affect the way the flooring will perform in certain areas of your home, the appearance, and also determines how you will clean and maintain the floor.
Engineered wood flooring in conservatories with high levels of UV

If you choose an engineered flooring for a conservatory, we recommend a UV oiled wood finish. Oiled wood finishes provide a natural look with more texture and make the floor easier to maintain, as light scratches and marks can be concealed by touch-up oil.
UV oiled finishes, also have the additional benefit of UV light protection. This makes it ideal for conservatories, where the flooring needs protection from colour changes in rooms with high levels of natural light.
Engineered wood flooring for moisture, temperature changes, and underfloor heating

Engineered wood flooring is an excellent option for a room where there are changes in temperature and humidity. Similar to laminate flooring, it is best to avoid engineered flooring in areas where there is a large amount of water and moisture, like a bathroom, as water can pass through the layers and adhesive causing it to expand.
However, compared to solid wood flooring, engineered wood flooring is able to expand and contract much more and withstand temperature changes like those in a conservatory. Engineered wood flooring is also perfect, and recommended, for underfloor heating.
Why choose Luxury Vinyl Tile Flooring for a conservatory?

Luxury Vinyl Tiles (LVT) are exceptionally hard-wearing, easy to install, maintain, and cost-effective, while still looking and feeling like a natural flooring material. They are designed to have the natural appearance of real oak plank flooring, marble, stone, or slate and come with a large number of benefits.
Another versatile conservatory flooring, there are a large variety of colours and finishes of LVT. Browse our range including our popular herringbone and parquet vinyl flooring. LVT is perfect in areas where there is heavy traffic and with it being scratch-resistant, can handle a fair amount of wear and tear. Requiring little maintenance, LVT helps you spend more time enjoying your space and less time spent on the upkeep. Not only that but most vinyl are non-slip, creating a stress-free environment.
Luxury Vinyl Tile Flooring in conservatories with high levels of UV

Like all flooring, LVT can still be damaged by UV rays over time, but instead of absorbing the UV lights, generally due to their glossy surface, they have an illuminating effect, helping your chosen floor glow in the sun.
Luxury Vinyl Tile Flooring for moisture, temperature changes and underfloor heating

LVT has a strong resistance against temperature change and moisture. It is completely waterproof which is why it is often used in areas with high water and moisture levels and is also often chosen to be used in entrances to protect the floor from moisture from the outdoors.
LVT removes the issue of your conservatory flooring expanding and contracting and provides a defense against leaks, moisture, and mucky boots. Vinyl floors heat up and cool down quickly and can safely be used with underfloor heating.
So, what is the best flooring for a conservatory?
It is fair to say that when choosing a floor for your conservatory, there are a number of things to consider and each of our flooring solutions would make pretty good conservatory flooring. But, if we had to choose one, we'd go with LVT.
LVT will provide you with that additional bit of protection in a room where the environment is constantly changing, but while also giving you a wide option of beautiful designs, patterns and finishes, enough to make any conservatory stand out.
Best Conservatory Flooring