Advice Centre
Our advice centre is a hub of information, designed to help you navigate through the world of flooring. If we don't answer your question below, contact our flooring advisors today!
Need Help? Contact Us Here!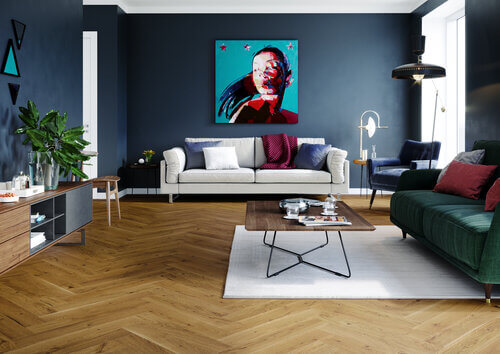 Laminate flooring is a man made flooring product that use a technique that requires joining multiple layers of different materials together, this is called lamination. This means a laminate flooring can be designed in various different shapes and sizes.
The core of laminate flooring is made from HDF or High Density Fibreboard which is one of the most dent and wear proof man made products available, it also helps resist water & moisture as well as regulating itself during temperature changes. The very bottom layer is called a stabilisng or balancing layer, which doesn't look much but this tops the board from warping and resist moisture from underneath.
The top layer of the laminate floor is a combination of the photographic which is decorative or patterned layer and the protective wear layer. The photographic layer is what creates the appearance and the aluminum oxide clear coating which makes the wear layer determines how long this product will last and how it will wear over time.
Laminate flooring is now very easy to install and maintain, a lot more so than engineered, solid and luxury vinyls, Laminate flooring is deemed the most DIY and Public friendly flooring.
Herringbone or parquet laminate flooring is becoming a fast growing trend in the flooring market. Traditional style mixed with new and on trend colours turns this time served floor in to a modern and vibrant must have for your home.
Bevel is the term used to describe the groove or indentation on the sides of a plank or tile. For example, a 4V bevel is four grooves, these grooves will run along the outside of the plank length and width.