Advice Centre
Our advice centre is a hub of information, designed to help you navigate through the world of flooring. If we don't answer your question below, contact our flooring advisors today!
Need Help? Contact Us Here!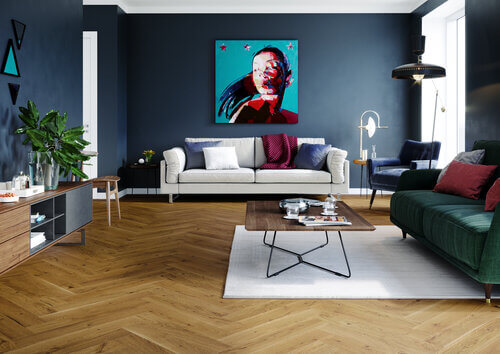 Laminate flooring is a man made flooring product that use a technique that requires joining multiple layers of different materials together, this is called lamination. This means a laminate flooring can be designed in various different shapes and sizes.
The core of laminate flooring is made from HDF or High Density Fibreboard which is one of the most dent and wear proof man made products available, it also helps resist water & moisture as well as regulating itself during temperature changes. The very bottom layer is called a stabilisng or balancing layer, which doesn't look much but this tops the board from warping and resist moisture from underneath.
The top layer of the laminate floor is a combination of the photographic which is decorative or patterned layer and the protective wear layer. The photographic layer is what creates the appearance and the aluminum oxide clear coating which makes the wear layer determines how long this product will last and how it will wear over time.
Laminate flooring is now very easy to install and maintain, a lot more so than engineered, solid and luxury vinyls, Laminate flooring is deemed the most DIY and Public friendly flooring.
Herringbone or parquet laminate flooring is becoming a fast growing trend in the flooring market. Traditional style mixed with new and on trend colours turns this time served floor in to a modern and vibrant must have for your home.
Bevel is the term used to describe the groove or indentation on the sides of a plank or tile. For example, a 4V bevel is four grooves, these grooves will run along the outside of the plank length and width.
Baelea is a high-quality flooring brand that is exclusive to Flooring Village.
We have taken our years of experience in the flooring market to create a high-quality range of laminate and LVT flooring, exclusive to Flooring Village. We created Baelea using over 25 years of flooring knowledge. It offers the best features of big brands we sell, at affordable, online-only prices.
Our own-brand flooring offers lifetime guarantees, easy installation, and high durability. From classic parquet to trendy Victorian-style tiles, Baelea is outstanding value.
Ideal for any family home, enjoy laminate flooring with splash and scratch-resistance in a range of colours. Or choose our new luxury vinyl tile range – a waterproof, rigid-core flooring that is soft and silent underfoot.
Baelea can be used with underfloor heating.
The Benefits:
Lifetime guarantee
Hard Wearing & Durable
Anti-Slip
Pet Friendly
Eco Friendly
Noise Reduction
Waterproof Options
Parquet & Herringbone Designs
Patterned Tile Options
Want to find out more about Baelea? Use our chat box to ask your questions or contact us here.
You can easily cover your stairs with any of our laminate solutions. It is essential the steps of your staircase must be flat square and not rounded.
If they are rounded you could achieve a flatter look by using a power tool to cut off the rounded edge and make the steps flush. Don't worry about the finished look, when ordering your laminate you will choose a laminate nosing strip in a matching colour, during installation this nosing strip will be installed over the cut off rounded edge, giving a streamlined finish to your new laminated staircase.
Laminate flooring is proving ever more popular for high traffic areas in homes such as hallways and stairs and we know why – it is significantly more durable and is available in a huge range of colours, grains, textures and even patterns.
Check out our Baelea range, unique to Flooring Village this is a proved, durable laminate floor that is an affordable choice for laminate stairs.
Need more help? Use our chat box to ask your questions or contact us.