How to choose the best flooring for your hallway
May 10th 2021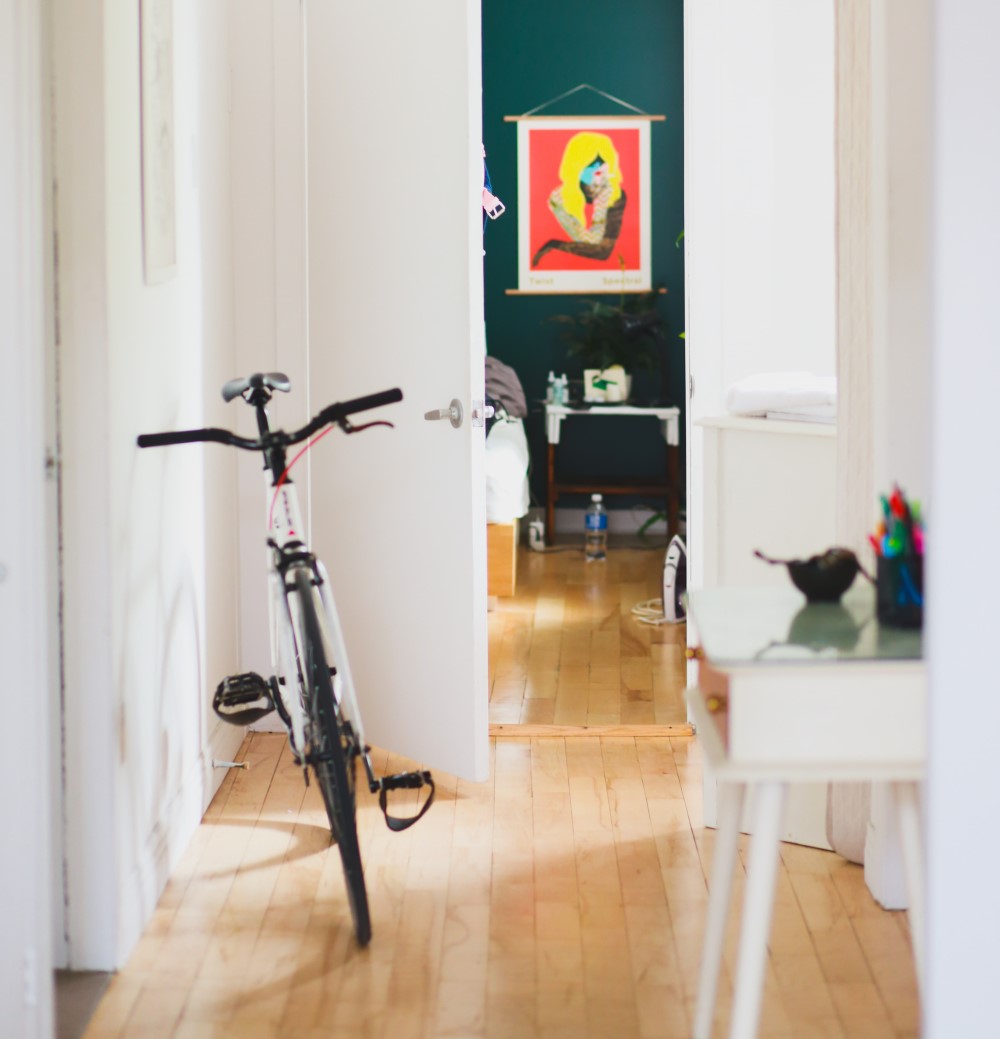 The hallway is usually the first room guests see when visiting your home, as well as one of the rooms with the most traffic. However, it can often be one of the most forgotten rooms, as we choose to focus our decorating efforts on rooms we spend the most time in.
Whether you have space for a grand double-staircase or you're just managing to squeeze a shoe rack in, choosing the best flooring for your hallway is key to impressing visitors.
It also creates a space that is both practical and aesthetically pleasing.
Aside from style and personal taste, there are a few things to consider when choosing the best hallway flooring. We've broken down what you need to consider, as well as our top picks of different types of flooring for a hallway.
What should you consider when choosing hallway flooring?
Replacing flooring is expensive. Like any big purchase, you want to be 100% happy with it and sure it can withstand the test of time.
Not only do you want your hallway flooring to be strong and last a long time physically, but you also want to love the way it looks and be sure it won't be outdated in a couple of years time.
So, how do you choose the best flooring for you and your needs?
How durable does hallway flooring need to be?
Consider how heavy the traffic is in your hallway. Is your hallway the main entrance in and out of your home?
For most people, the hallway is the busiest room of the house for footfall. Your hallway flooring needs to be a strong, durable material that can withstand plenty of footsteps, as well as different types of footwear.
With the constant flow of people, comes the endless possibility of dirty, muddy, sandy, stoney and grassy shoes and footprints. Therefore, you are going to need to choose a hallway flooring that is hard wearing, scratch-resistant and remains looking as good as new after some wear and tear.
When considering how durable you need your flooring to be, it is worth asking how many people live at home and what are their ages?
With younger children and elderly people, you may want to consider how slip-proof the flooring is to reduce the risk of falls and injuries. Unless you opt for a carpet, consider getting a doormat or runners, to prevent your hallway flooring becoming too slippy.
How easy to maintain does hallway flooring need to be?
Whatever the weather outside, it is more than likely that you will bring traces of it into the hallway with you.
Your hallway flooring needs to be easy to clean, maintain and also be resistant to moisture. If you have pets, you will want to choose flooring where pet hair and muddy paw prints don't show up too easily and can be wiped away with ease.
Luckily, many types of flooring meet this criteria. Carpet is the least fitting of these criteria, as mud and moisture is easily soaked up into carpet and it is much more challenging to clean.
Engineered wood flooring, LVT and laminate floorings are generally much easier to clean and maintain.
What aesthetic and appearance are you looking for?
If you are completely redecorating your hallway or are working with a blank canvas, your chosen flooring can work as a great base for the rest of the room.
Or, if you are just replacing the flooring, you will need to consider what is the rest of the room like? Is it warm and light, or dark and cold? Do you already have a colour scheme in place? Do you want the flooring to be uniform with adjacent rooms?
Cooler and darker hallways may benefit from the addition of carpets and runners to make them feel warmer, or lighter coloured woods or materials.
Rooms that are warmer may suit tiles or wooden floors that are generally cooler under foot. However, installing underfloor heating is always an option on these types of floors if it is a particularly cold or draughty room.
What are the best floorings for hallways?
There are a number of floorings that are suitable for hallways, here are our top picks:
Laminate flooring for hallways
Laminate flooring is an extremely popular choice for hallway flooring. There is a huge variety of colours, styles, textures and patterns of laminate flooring. Due to the wide range of choice, it would be difficult to find an interior that wouldn't suit laminate.
Laminate flooring is designed to emulate materials such as solid wood like our oak laminate flooring, stone or traditional tiles like our tile effect laminate flooring, but at a much more affordable price than the real thing. Distressed laminate flooring is ideal for a hallway as it's already textured.
Laminate floorings are durable, with the best laminate flooring offering a 20-year guarantee on average. The durability does depend on how thick the laminate is, as they come in different degrees of durability and thickness. If you choose to have laminate flooring for your hallway, choose a thicker and more durable laminate to protect the floor from wear and tear.
As well as this, laminate flooring is very easy to clean and requires little maintenance, making it perfect for those hallway messes.
Luxury vinyl flooring for hallways
Luxury Vinyl Tiles (LVT) are perfect for heavy traffic areas like hallways as vinyl is one of the most resilient of flooring materials.
LVT are hard-wearing, extremely durable and scratch resistant, making it an ideal flooring option for even the busiest of hallways. Luxury Vinyl Flooring is also water resistant so wet and muddy shoes, umbrellas and snow puddles are not an issue for LVT.
Like laminate, vinyl flooring is also designed to mirror materials like real oak flooring, stone, slate or marble but is also reasonably inexpensive.
Using luxury vinyl flooring for hallways, can help you achieve a beautiful and attractive entrance, without the practical drawbacks the real materials come with. Vinyl flooring is easy to install, maintain and clean making it a perfect choice for a hallway entrance of any shape.
The variety in colours, patterns and textures opens up homeowners to many design and decorating options that can fit any style. Popular and stylish choices include Herringbone and Parquet vinyl flooring for hallways, as they give off the appearance of real solid wood plank, in an elegant woven pattern; a classic design.
Wood flooring for hallways
Wood flooring is a timeless choice for homes due to its natural beauty and ability to work with many decorating styles. If wood flooring gets damaged it may be able to be sanded down and refinished to restore its original appearance.
There are a few practical concerns with solid wood flooring for hallways, such as its need for on-going maintenance and care. But the biggest drawback is wood floorings inability to withstand moisture.
Wood flooring is easily damaged by water, which doesn't make them great for areas that are vulnerable to higher levels of moisture, such as hallways and bathrooms.
Engineered wood flooring for hallways
To keep the appearance and similar quality of wood flooring but reduce the risk of moisture damage, engineered wood flooring could be a good alternative for you.
Engineered wood is composed of multiple layers of timber stuck together, finished with a real wood surface. It is able to contract and expand more than solid wood flooring, making it ideal for underfloor heating and some moisture.
Engineered wood flooring comes in a beautiful variety of colours and patterns, and is perfect to create the all important grand first impression every homeowner wants to achieve.
We have an exclusive collection of engineered wood flooring including the popular herringbone and parquet engineered wood flooring for hallways, available in a number of colours and patterns. As well as unique distressed engineered wood flooring and much more.
The final word on flooring for hallways
Choosing the best flooring for your hallway can be slightly more complex than other rooms in your home, but it doesn't mean you are limited for choice.
Our top picks for hallway flooring are laminate, LVT and engineered wood flooring, due to their appearance, affordability and durability.
We hope we've answered your questions on choosing the best flooring for your hallway but please do get in touch if you have any other questions, or check out our range of stunning flooring at affordable prices.