Chevron or Herringbone – What is the difference?
March 30th 2021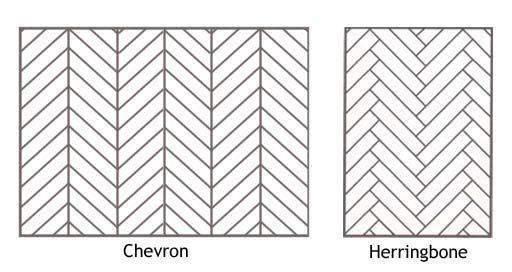 Parquet floors come in a variety of shapes and sizes including both chevron and herringbone designs. Traditionally herringbone was the preferred laying of a parquet floor but now, with new design trends, Chevron parquet flooring is becoming the next big trend with interior designers and homeowners all opting for this new and exciting floor.
However, the difference between them can be confusing! Read our quick guide on the difference between chevron and herringbone so you can pick the perfect floor for your home.
While parquet flooring was traditionally made from real hardwood, both chevron and herringbone parquet are now available in a range of different materials including real wood, chevron laminate floors and engineered wood.
Chevron Pattern Flooring

As with any parquet flooring, chevron designs are installed in a zigzag pattern that come to a point with one in the front and one at the back on the next row and so on. The difference, however, is in how the edges of the planks meet each other.
The tell-tale way to recognise chevron flooring is with the 'V' shape. This is your first indication that it is a chevron patterned floor as they are designed to create this beautiful effect.
The next thing to look for is that the boards are installed together at an angle, so no chevron plank has a right angled edge. Instead, all of the chevron boards will be cut at 45 degrees. This allows them to lay with straight lines against each other so as to create a unique lay with a sense of rows.
Chevron floors now come in a variety of types of flooring, designs and finishes, including real wood, chevron engineered flooring and hard wearing chevron laminate floors.
Herringbone Pattern Flooring

Herringbone flooring, on the other hand, has a different design that makes it distinct to chevron. This is in the way the planks meet each other to create a less clear cut design, but one that is, like all parquet floors, still characterised by order and repeating patterns.
You can still pick out the 'V' shape in herringbone, but this isn't as neat and simple as in chevron flooring, but is created through a more staggered effect.
The first thing we look for when identifying a herringbone floor is that the planks are installed at right angles to each other. This means that all the boards meet at 90 degrees with no sloping angles.
The second thing to look for is the staggered zigzag pattern. This creates the effect that the boards follow on from one another.
About Herringbone Floors

Herringbone is the most traditional form of parquet flooring. This style of flooring has stories to tell, dating back to the 1600s. In this era, the rich and powerful had parquet floors installed throughout their manor homes to create a stately and grand aesthetic.
One of our most popular flooring ranges is Berry Alloc Chateau – a stunning herringbone pattern, in a range of modern colours.
Now with new technologies, manufacturers are turning this age-old herringbone parquet in to a head turner with new colours and fresh designs. Herringbone floors now come in a variety of types of flooring, designs and finishes to bring modernity into this classic design. Herringbone floors are now available in real wood, herringbone engineered flooring and herringbone laminate floors that are appropriate for areas that might come into contact with water.
The Difference Between Herringbone and Chevron

In summary, the difference between herringbone and chevron floors is in the way that the individual planks meet each other. Herringbone has 90 degree angles that mean the boards have a staggered effect, while chevron boards are cut as 45 degrees to create clean 'V' shapes in the floor pattern.
Chevron and herringbone parquet floors both have so much to offer your home. They can turn your space into a traditional cottage, a modern studio apartment or a country manor. Chevron and herringbone flooring have many different manufacturers and therefore come in a multitude of qualities, colours, textures, designs and finishes. For more, explore the collection at Flooring Village.