Best Engineered Wood Flooring Brands
April 16th 2021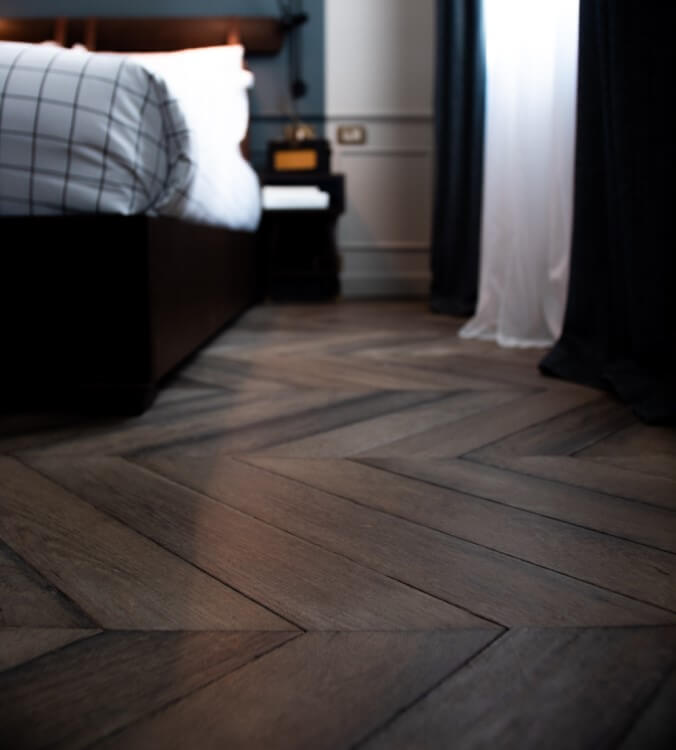 Want the best engineered wood flooring for your home? We stock only the best engineered wood flooring brands to ensure you get amazing quality every time. These well-known flooring brands have been tried and tested by our showroom and installation team over the years. If you're looking for the best value engineered wood flooring, Flooring Village is a great place to buy it online for a fantastic online-only price.
What are the best engineered wood flooring brands to buy online?

Quick-Step Engineered Wood Flooring
Quick-Step is one of the best engineered wood flooring brands out there today. If you want a warm and authentic home interior, the natural charm of real wood is the way to go. Based on the latest trends in fashion and design, Quick-Step creates a wood flooring match for every style.
For extra protection against dirty edges and joints, thanks to the unique, moisture-repellent joint technology Protect+, there's no need to worry if you spill something. Protect+ stops fluids from seeping into engineered wood flooring and dirtying joints, keeping the space between the planks clean and looking fresh, even with frequent cleaning. Quick-Step Engineered Wood Flooring comes with a Lifetime Warranty.
Woodpecker Engineered Wood Flooring
Simply, one of the best engineered wood flooring brands in the world. Woodpecker has a passion for engineered wood flooring, which shines through every range they make. Bespoke color-matching accessories and a minimum of a 25-year guarantee for every wood floor.
They are a family-run business that goes back three generations. The Woodpecker engineered wood flooring brand was founded by Bruce Ker in 1975. He was a skilled craftsman, and his son Nelson carried on the tradition, focusing the business on engineered wood floors.
Tuscan Engineered Wood Flooring
Tuscan wood flooring offers outstanding quality and peace of mind. In fact, we're so confident in the quality of their flooring that all of their engineered wood floors come with a 25-year guarantee. Tuscan Flooring is manufactured in Europe and is one of the best engineered wood flooring brands on the market, in terms of environmental sustainability. All of their engineered wood flooring is 100% FSC.
Atkinson & Kirby Engineered Wood Flooring
Hardwood flooring is an investment worth making. The strong, durable quality of a hardwood floor is plain for all to see. With a variety of species and finishes available, constant innovation and excellent customer service, Atkinson & Kirby are a leading engineered wood flooring brand. From 1903 to the present day, Atkinson & Kirby engineered wood has taken pride in the quality of their wood with a rigorous inspection at various stages of production.
Today, they are just as meticulous in our selection, making sure the origin of their wood is from a sustainable source and are proud to be FSC® certified. Atkinson & Kirby are one of the highest quality engineered wood flooring brands available, and they're available to order online.
Baelea Engineered Wood Flooring
Looking for the best value engineered wood flooring brands? Designed and made with you in mind, Baelea engineered wood is a budget-friendly option for every home that doesn't impede on quality or finish. Supplied from only the best manufacturers, all Baelea products come with a 25-year guarantee. Flooring Village is one of the best places to buy Balea engineered wood flooring – look out for our free samples and delivery deals.
Elka Engineered Wood Flooring
Elka engineered wood flooring is a practical product, chosen for its strength, easy installation, and stability. It mimics a solid wood floor, but is made of 3 or more layers of real wood with an upper layer of hardwood. Its core strength comes from each layer being stacked in opposite directions. It can be used in most areas of the home including conservatories and with underfloor heating. Elka floors come with a 20 or 25-year guarantee.
Furlongs Engineered Wood Flooring
Furlongs flooring provide some of the most hard-wearing woods and magnificent species of flooring, to be enjoyed throughout your home. These wood floors stand the test of time – never going out of style, never needing replacement, and only grow in value and character as years pass by.
Kersaint Cobb Engineered Wood Flooring
Top engineered wood flooring brand Kersaint Cobb's mission statement is, "If wood flooring could speak it would have some amazing stories to tell you. More than 60 years of sunrises and sunsets go into making our wood floors and with so many specifications, colour and finish options on offer you can create a unique natural floor that will grow old with you. Treat them with love & care to allow the wood to grow old gracefully."
To us at Flooring Village, this is exactly the ethos we live by, engineered wood floorings are natural and should be seen and treated in the way they deserve. Kersaint Cobb engineered wood flooring comes with a 20 to 25-year warranty, and we're one of the best places to buy it.
Browse our full range of engineered wood flooring now.