The Best Luxury Vinyl Tile Flooring Brands
April 15th 2021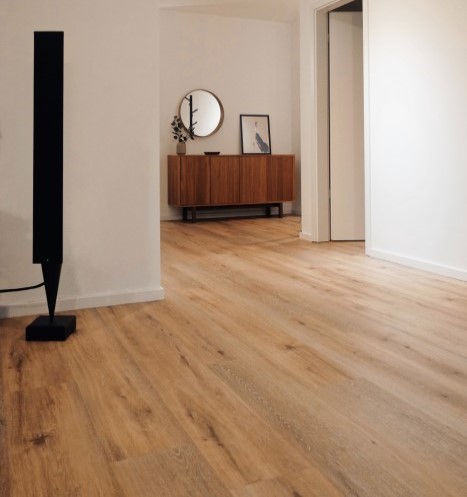 With so many luxury vinyl tile brands on the market, it can be hard finding the best LVT flooring for your home. At Flooring Village we pride ourselves in stocking only the best LVT flooring brands in the market. These luxury vinyl tile brands have been tried and tested by our showroom and installation team over the years. Read on to find out more about our favourite LVT flooring brands available in the UK.
Quick-Step Livyn Luxury Vinyl Tile Flooring
One of the best LVT flooring brands, Quick-Step Livyn offers natural looks and characteristic warmth. Their floors are equipped with a protective top layer that ensures your floor will keep its good looks for years to come. All Quick-Step vinyl floors have a protective top layer that makes them water-, scratch- and stain-resistant. This ensures that your floor will always look as perfect as it was when you first installed it.
Treading on a Quick-Step vinyl floor is a pleasant experience in every way: their natural designs catch the eye, they feel soft and warm, and their acoustic performance gets rid of any unwanted noise from heels, boots, trainers or paws. Renovating? Quick-Step vinyl flooring is very thin and easy to install (thanks to our patented Uniclic Multifit click system). A great choice if you want the very best luxury vinyl tile for your home.
COREtec Plus Luxury Vinyl Flooring
Another of the best LVT flooring brands in the UK – COREtec Plus flooring's patented core structure makes it the original 100% waterproof, kid-proof, pet-proof flooring by providing more rigidity, stability, and comfort than glue down LVT, solid locking LVT, or laminate flooring.
The DESIGN™ collection takes bold styling up a notch with Embossing technology in Multi-Tone and Multi-Width Planks as well as Multi-Tone and Multi-Width Tiles. Statement-making style is backed up by patented construction, featuring an innovative extruded core made from recycled wood and bamboo dust, limestone and virgin PVC. It can be installed in wet areas without swelling or warping when exposed to water.
COREtec floors do not require acclimation and can be floated over most existing hard floor surfaces or substrate without the unwanted telegraphing common in other locking or glue-down LVP products. COREtec Plus Design is also GREENGUARD GOLD Certified for Indoor Air Quality to help keep your home healthy and happy. If you're looking for a high-quality luxury vinyl flooring brand, you won't be disappointed.
Baelea Luxury Vinyl Flooring
Our new, own brand Baelea Flooring offers the highest quality LVT at an affordable price. It's created with over 25 years' experience in mind.
Baelea Aqua Plus rigid plank LVT provides a selection of realistic woodgrain designs suitable for use in any room in the home thanks to its waterproof hard-wearing properties. Quickly create a stunning space thanks to the easy to fit rigid planks featuring the patented i4F click technology, perfect for any DIY enthusiast. This flooring also boasts a built in underlay, saving time and money.
Browse the rest of our best LVT flooring brands today.
From the realistic-looking planks of Malmo to LG Hausys stone effect tiles, browse our favourite luxury vinyl tile brands online.