Vinyl vs Laminate Flooring
July 29th 2021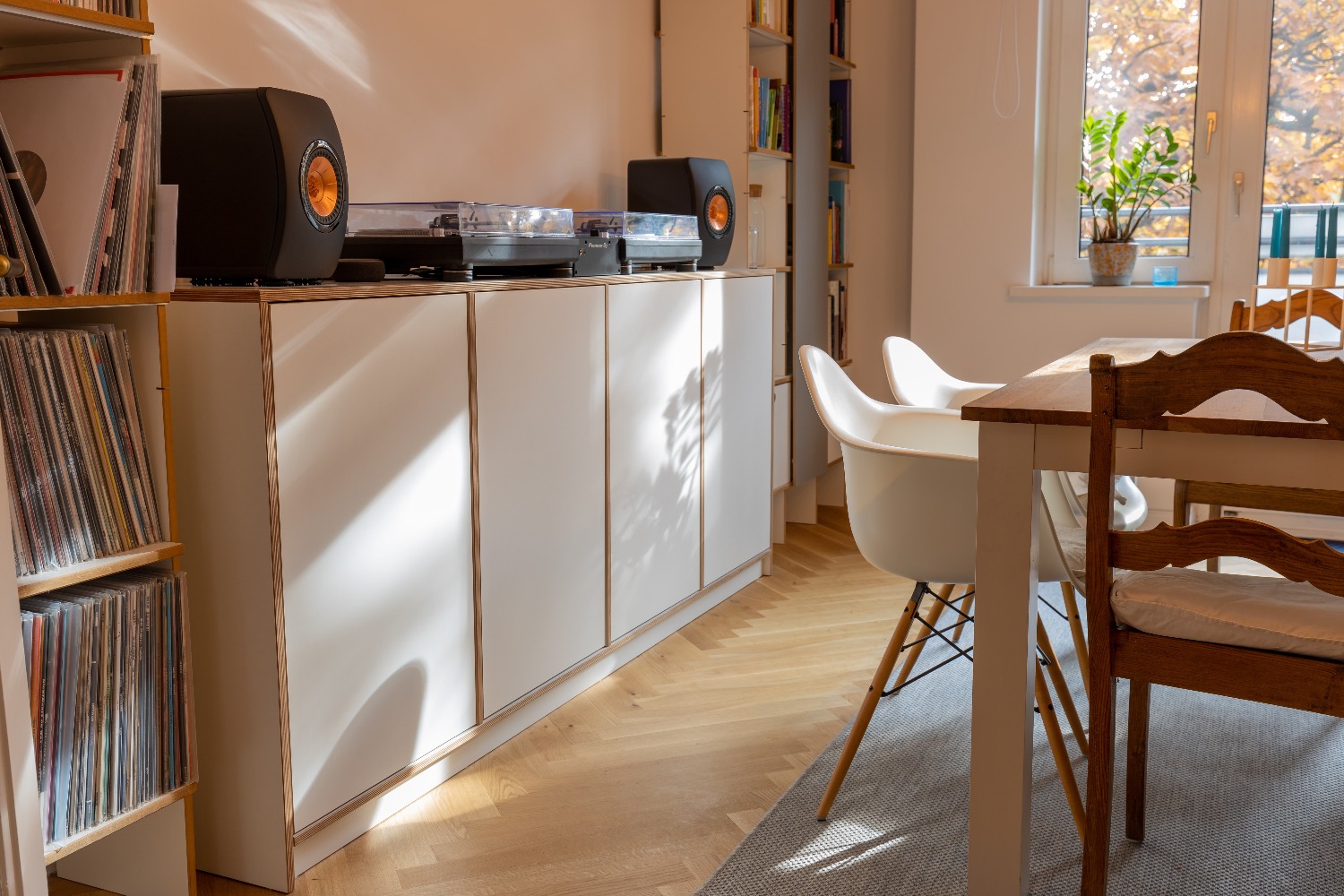 If you are looking for durable, cost-effective, budget-friendly, easy to install, and aesthetically attractive flooring, then two obvious choices are laminate or luxury vinyl flooring. On paper, it can be hard to differentiate between the two, as they both stand out as good-quality flooring solutions. So is there really any difference between them? Is vinyl better than laminate? Or is laminate better than vinyl?
Apart from the obvious differences in materials, finishes, and appearances, there are some core differences, as well as similarities between the two. We've answered the most pressing flooring questions to assess vinyl vs laminate flooring.
So, what are the differences between vinyl and laminate flooring?
Which is more durable, vinyl vs laminate?
Both LVT and laminate flooring are incredibly durable and practical. They are both made from a strong material, which mirrors the strength of solid wood, making them very hard-wearing. Vinyl is particularly strong and can take heavy traffic, as well as be used in most rooms including bathrooms and kitchens as it is waterproof. Laminate flooring, on the other hand, is less water-resistant, although you can get water-resistant laminate options.
Although both are strong flooring options, neither vinyl nor laminate flooring is unbreakable. Low-quality vinyl tiles can become delaminated over time, and they can loosen. Laminate flooring can also delaminate, and many layers can begin to unravel over time, especially if exposed to water. Luxury vinyl tile however is much more resilient, which is why it is used in both domestic and commercial settings. So, be sure to opt for the luxury end of the vinyl flooring spectrum.
Like all flooring, vinyl and laminate flooring can be prone to damage. For laminate flooring, this can be subject to scratches or chips, and vinyl can dent from heavy furniture. If a laminate flooring's top layer is scratched, it becomes less easy to repair. However, there are products available to help protect and repair laminate flooring or professional help can be acquired. 
Wondering about pets? Read our blog on which flooring is best for dogs.
LVT wins on durability
Due to its water resistance and heavy-duty wear, it is luxury vinyl flooring. You'll be in safe hands in whatever room you choose to put LVT down in.
What is the lifespan difference of vinyl and laminate flooring?
Depending on the quality of the product, laminate flooring tends to come with a warranty of between 10 to 20 years. The best laminate flooring will come with a guarantee of up to 20 years. To distinguish between high-quality and low-quality laminate flooring, check out their AC (heavy domestic wear layer) rating. A good-quality laminate flooring will usually come with an AC rating of 4 or 5.
Vinyl flooring, in particular luxury vinyl flooring, often comes with a warranty of up to 20 and 25 years. The Malmo Luxury Vinyl Tile flooring comes with a guarantee of up to 25 years for domestic use, as well as some of our other LVT brands.
LVT can have a slightly longer lifespan than laminate flooring
LVT can have a slightly longer lifespan than laminate flooring. However, if you opt for high-quality laminate flooring, you should in no doubt get good value for your money. Both are great options for long-lasting flooring.
Vinyl vs laminate flooring, which is more cost-effective?
Laminate and vinyl flooring are usually very similar in cost. Both are usually more affordable than hard flooring, engineered wood flooring or real ceramic tiles. Laminate can on occasion, cost slightly less than LVT flooring, as the finishes LVT can provide are a much more realistic representation of real wood flooring and other textures, making them of better quality. Equally, some lower quality vinyl flooring, like sheet flooring can be found cheaper than laminate.
To conclude, there isn't much difference in cost between vinyl and laminate flooring, both are considered cost-effective and budget-friendly options.
Is laminate or vinyl flooring easier to install?
Both laminate and vinyl flooring generally use a click-and-lock method of installation. This method is where the flooring panels have a click-lock fitting for tongue and groove installation which makes for an easy fitting. With the ability to lock planks together, it is possible to DIY install these types of flooring, without the need for a professional installer, which would again bring the overall costs down.
The main difference in installation is the cutting of the materials. LVT planks are easy to cut through and score and can be done with a utility knife and the planks can even be bent into the desired shape. Laminate on the other hand is much harder to cut through into shape and may require tools such as a power saw to cut through.
Laminate and vinyl are on par with similar installation methods. For DIY installations, opt for vinyl as cutting the material is easier.
What rooms are laminate and vinyl floorings recommended to be used in?
| | | |
| --- | --- | --- |
| Room | Vinyl | Laminate |
| Living Room | Yes | Yes |
| Dining Room | Yes | Yes |
| Kitchen | Yes | Maybe |
| Hallway | Yes | Yes |
| Bathroom | Yes | No- unless fully water-resistant treated |
| Conservatory | Yes | Maybe |
| Home office | Yes | Yes |
| Utility Room | Yes | Maybe |
Additional pointers about vinyl and laminate flooring:
Both Vinyl and laminate are suitable for underfloor heating
It is essential to use an underlay when fitting both vinyl and laminate flooring.
Some vinyl floorings are self-stick meaning you can attach and stick them straight onto underlays for quick and easy installation
Both types of flooring can replicate the look of real wood but with advancements in luxury vinyl tiles, they now have added texture which can even replicate stone.
So which wins, vinyl vs laminate?
It's clear to see that these two flooring choices have many similarities bar the materials and appearance. But if we had to choose one that reigned superior, that can be used in any room in the house, that is practical, durable, and easy maintenance, it has to be LVT.
Which will you choose?
Still looking for more information? Get in touch with one of our advisors to find out which flooring best suits you.