10 Stylish Wood Floor Trends in 2021 – Colours, Textures & More
April 27th 2021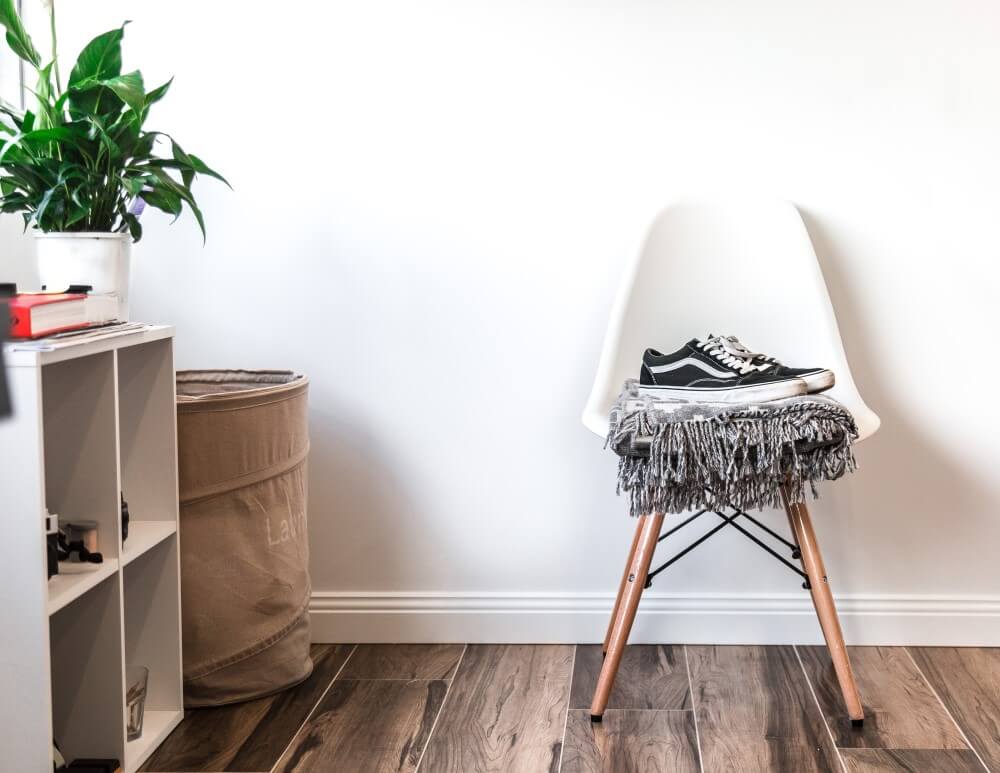 Flooring is the foundation of your home and often makes a base for further furniture and decorating choices. Over the years, we have seen an expansion of choice in engineered wood flooring and wood flooring solutions such as laminate and luxury vinyl tile, and the choice can now be overwhelming.
Choosing the right wood flooring for your home is a big decision as it will live with most households for around 20 years. No pressure though! We are here to help and introduce you to the top wood floor trends in 2021, that will keep your house looking fresh and on-trend for years to come.
We'll have a look at the top wood floor colour trends in 2021, layouts, textures and finishes. So if you're in the middle of a refurbishment, styling a new house, wanting a refresh or you're just here out of interest, we've got you covered with our article on the top wood floor trends.
Trends for floor layouts

A noticeable difference in wood floor trends in 2021 compared to previous years and in particular, the last decade is the choice in wood flooring designs. The trend sees us move away from the crispcrips and contemporary look to homeowners embracing new, more interesting designs and colours to make a noticablee revamp on their home. Expect patterned flooring and floorings which look to add texture and style to homes.
Parquet flooring

Parquet flooring has already seen an increase in popularity in recent years, and it is a trending flooring that is set to stick. Parquet engineered wood flooring is a beautiful way of introducing pattern and shape to your home in a stylish way that mirrors the traditional parquet blocks laid in France in the 18th century. The famous 'v' shaped wood blocks can be laid in intricate geometric patterns and can add an interesting and unique look.
Paquet Herringbone floorings like our Parquet Harrow Oak Herringbone, can be used to add a contemporary look to a number of rooms in your home, while not substituting on style and quality. Look to stand out with your impressive flooring design.
Wide planks

Another trending wood flooring that is historical in nature, is wide-plank hardwood floors. Homeowners and designers in 2021 are opting for wider and longer wood planks when it comes to their wood flooring choice to create a feeling of space, making homes feel larger and more expansive.
Wider planks have something to offer for both modern homes and older homes. They have a way of making modern homes look and feel contemporary while making old homes look more authentic and rustic.
Wood floor colour trends in 2021

This year you will notice that there has been a shift away from woods with yellow or warm undertones, with wood floors inclined towards cooler and purer browns and darker tones.
Dark and cool tones

The trend of dark wood in homes continues to grow this year, as it becomes a popular choice for both flooring and furniture. Consistently in recent years, wood flooring with cool tones is the preferred choice, with some homeowners even asking for the warm tones in their wood to be removed or painted over.
Executed correctly, dark wood floorings create a sophisticated, clean look that is timeless. Opting for a dark wood opens up a realmwhelm of possibilities when it comes to the furniture which you choose to pair with it and interior contrast. Black and dark engineered wood floorings are durable so they age well and can add great value to your home.
Whitewashed wood flooring

In contrast to dark and black wood flooring, a popular wood floor colour trend is whitewashed wood floorings. Similarly, whitewashed floorings are coming about as homeowners are looking to remove the yellow tones in their wood flooring. Some people may be familiar with whitewashed floorings due to their popularity in the 80s, but don't worry although they are back, they've been reinvented and modernised.
Offering a Scandinavian style look, whitewashing in 2021, looks much more subtle in character and matte in appearance. Whitewashing works best on white and light oaks, creating a modern look. White Engineered Wood Flooring brings a surprisingly warm feeling to homes and provides a blank canvas to you to style with furniture, rugs and objects to make your home unique.
Grey wood flooring

Grey engineered wood flooring is also on the rise. Grey flooring has been popular for the last few years and it is turning into a classic choice with its ability to create a warm, clean and contemporary feel. Grey flooring is relaxed, and neutral, and can make any room feel more welcoming.
We are also now beginning to see variations of grey with people blending greys with other tones. Keep an eye out for 'greige' (grey + beige) and greys subtly integrated with cooler darker tones such as browns and black.
Trends for floor textures

Wood flooring textures play a vital role in wood floor trends in 2021. When it comes to the texture of your wood flooring there are plenty of options to choose from, but the most popular of textures for wood flooring in recent years is distressed engineered wood flooring. Popular for making homes feel more cosy and authentic and being extremely hard-wearing and durable, distressed flooring is ideal for looking beautiful, but also for those with pets and children, or where scratches and marks are likely.
There are different ways of creating distressed textured wood floorings, wire brushing and hand-scraping are two of the most popular ways in 2021.
Wire brushed wood flooring

Wire-brushing is a finishing technique where the wood planks are scraped with a wire brush to create a distressed surface. Lightly distressing wood enhances the graining of wood and can add more texture to the wood. It works by pulling the soft grains from the growth ring back, exposing the heartwood. Although it adds texture, it doesn't leave the wood rough or wavy; it creates a beautiful rustic effect.
Hand scraped wood flooring

Hand-scraped flooring is also used on wood floors to add texture and definition to the surface of wood floors. Planks are made in the same way as usual hardwood floors planks are made, then the surface is scraped and finished with oil or lacquer. Hand scraped wood flooring is usually done on oak, one of the most common choices for wood flooring. As no plank of wood is the same, this technique creates a unique look, resulting in a wood flooring full of charm and character.
Trends for wood finishes

And to finish… we have wood finishes and sheens trends in 2021.
Natural-looking finishes and sheens

The trend of glossy and semi-glossy finishes has become dated, possibly because they are difficult to maintain and show up dust, scratch and dents very easily. This year, matte and satin finishes will be the most popular sheens, as flatter finishes are practical and look great. Matte and satin finishes are easier to clean and look better for much longer, making them the perfect choice for kitchens and other busy areas of your home.
Brushed and oiled finished floorings

Brushed and oiled engineered wood floorings are ideal if you are looking for an even more natural-looking finish, compared to matte or lacquered wood. Brushed and oiled wood look more natural as they enhance the grain of the wood, which will help you achieve the much sought after cosy and authentic look. Brushed and oiled finishes leave your wood flooring easier to maintain too, a win-win all around.
We hope our wood flooring trends in 2021 has provided you with some inspiration for the year ahead but if you require any further information or have any questions, please get in touch today.
Check out our Engineered Wood Flooring for more ideas.